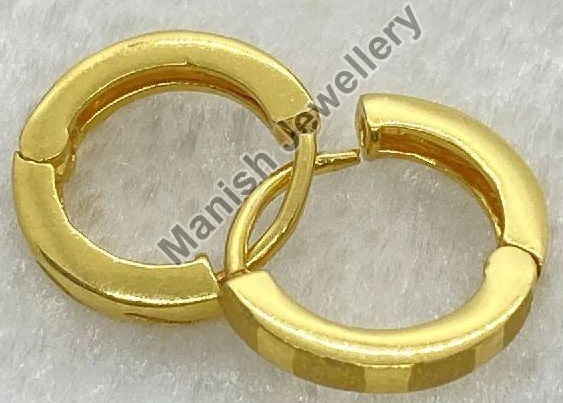 Are you someone who loves to style every outfit? Are you in love with your collection of plain casting gold Bali but not sure how to style it with your daily wear? Then this is the perfect article for you.
Golden balis are expensive and rich and are often considered to be worn with heavy Indian wear and during special occasions only. That may have been the case in the past but in the present, these pieces of jewellery can be paired with your regular wear as well. With a variety of designs and simplicity, plain casting gold Bali has always been a cult favourite. In this article, we will share how you can style your earrings in a minimalistic way.
Various Ways to Style Your Favourite Plain Casting Gold Bali
Plain Casting Gold Bali comes in various designs and can be customised to one's taste, making it accessible for one and all. Get your favourite pair or pairs of gold Bali and for the styling, we have you covered.
A Feminine Look for Girls' Day Out - Want to flaunt your favourite pair of casted gold earrings to your girlfriends? Easy, wear them to your girls' day out! Wear a jumpsuit, off-shoulder dress or favourite off-shoulder top with jeans or a skirt, pair it with either pointy flats or heels and a clutch or small handbag. Tie the entire look together by wearing a beautiful yet minimalist casting gold Bali. If you have never done this before, then get ready to get surprised at how much of a difference a Bali can make to an entire look.


Curate a Perfect Autumn Look With Your Gold Bali - The next look is going to be inspired by what many celebrities are flaunting these days - an autumn look with casting gold Balis. All you need for this look is your choice of casting gold Balis, a pleated skirt and a matching blouse. Pleated skirts have gained momentum since fashionistas and celebrities started wearing them abundantly. You are not to be blamed if you bought a pleated skirt and have forgotten about it due to a lack of styling options.


Take the skirt out and pair it with a matching blouse, in case you are not sure, pair any coloured pleated shirt with a full sleeves black top. Wear small casted golden balis and let your traces loose and that is it! Fashion does not require much effort when you know what you are doing.


Pair Your Favourite Bali With Your Professional Outfit - If you thought Balis can not make their debut in your office then you are wrong! All the ladies are guilty of owning an all-black attire for their business or client meetings, but when it comes to accessorizing the attire ladies go blank!


You need to look classy but at the same time, a little styling can not hurt anyone. To pair your all-black attire with an extremely lightweight and small casting gold Bali and you will make a statement.
Whether it is an office, party or picnic, a plain casting gold Bali can always be paired with the outfit as long as you are pairing them with the right dress colour.